water pipe,carbon steel water pipe,galvanized water pipe

Home >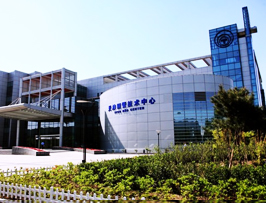 One of the Top 500 enterprises in China foreign trade
QCCO was approved as a member of "China Association for Contracting Projects Abroad "and granted a membership certificate on Sep 28,2005; "Credibility Rating AAA certificate in Foreign Trade" was granted to QCCO by China Shippers' Association

water steel pipe
Standard: JIS ANSI ASME GB DIN BS API
Grade: 10# 20# 45# K55 J55 ST37 ST52
X42-X70
water steel pipe
ERW
Standard
JIS ANSI ASME GB DIN BS API
Grade
Q235(10#) Q345(16Mn) 20# X42-X65 J55
Out Diameter
127--406mm (5---16 inch)
Thickness
6--14mm (1/3---3/5 inch)
SSAW
Standard
JIS ANSI ASME GB DIN BS API
Grade
Q235(10#) Q345(16Mn) 20# X42-X65 J55
Out Diameter
219--2220mm (8---88 inch)
Thickness
6--18mm (1/3---4/5 inch)
SEAMLESS
Standard
JIS ANSI ASME GB DIN BS API
Grade
10# 20# 45# K55 J55 ST37 ST52 X42-X70 Q345(16Mn)
Out Diameter
139.7--245.5mm (5-1/2---9-3/5 inch)
Thickness
4--140mm (1-1/2---5-3/5 inch)
Length
12m or as customers requirement
Manufacture Technique
Welded
Surface Treatment
varnish coating or as customers requrement
Section Shape
round
Ends
Beveled or square cut, plastic capped
Alloy or not
Non-alloy
Packaging Details
export packing or negotiation
Payment Terms
L/C D/P T/T
Usage
water transport/boiler use/Chemical use/Construction use
Delivery Time
within 35 days after sign the contract
Minimum Order Quantity
20 Ton
Supply Ability
1000 Ton/Month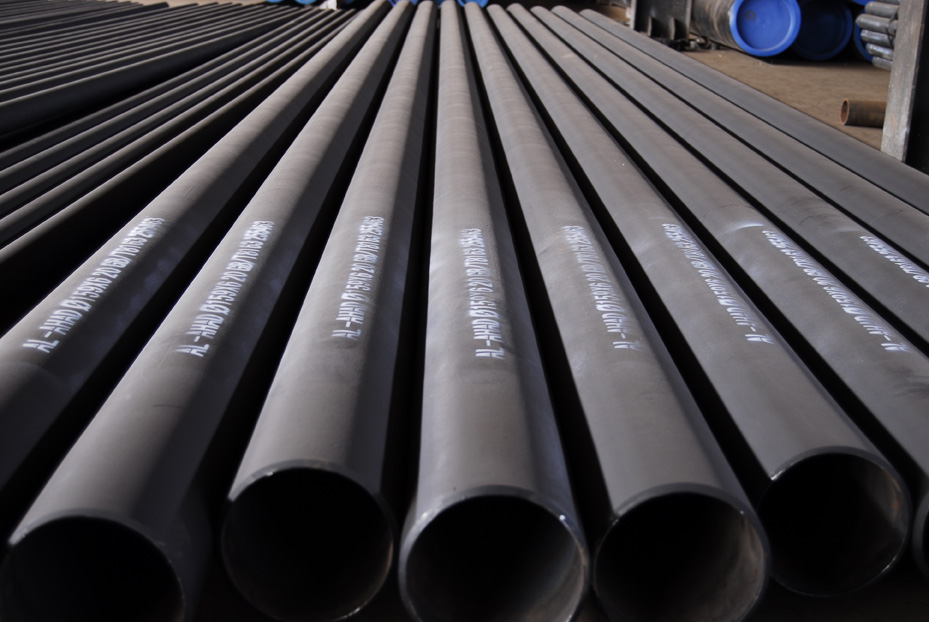 API Specification 5L/ISO 3183
mechanical
Steel Grade
Yield Strength
Tensile Strength
Elongation
Mpa min
Mpa min
A f % min
L175/A25
175(25400)
310(45000)
C
L175P/A25P
175(25401)
310(45001)
C
L210/A
210(30500)
335(48600)
C
L245/B
245(35500)
415(60200)
C
L245R/BR
245(35501)
415(60201)
C
L290/X42
290(42100)
415(60202)
C
L290R/X42R
290(42101)
415(60203)
C
L320/X46
320(46400)
435(63100)
C
L360/X52
360(52200)
460(66700)
C
L390/X56
390(56600)
490(71100)
C
L415/X60
415(60200)
520(75400)
C
L450/X65
450(65300)
535(77600)
C
L485/X70
485(70300)
570(82700)
C
---
galvanized water steel pipe
1.O.D:19mm-219mm
2.W.T:0.7mm-4.0mm
3.Length cut:5.8-12m
4.Zinc coating:200-400g/m2
galvanized water steel pipe
Featurs
1) outer diameter:19-219mm
2) wall thickness:0.7-4.0mm
3) material:Q195,Q215,Q235,Q345,ST37,ST52,ASTM A53,ASTM 3091-2008 and so on.
4) standards:ASTM,BS1387-1985,GB/T3091-2001,ASME,ANSI,DIN and so on.
5) steel pipe:a)GTC(galvanized threaded and coupling)steel pipe:DN15-DN200 (NB1/2"-NB8")
b)GPE(galvanized plain end)steel pipe:DN15-DN200
c)Grooved steel pipe:DN15-DN200(NB1/2"-NB8")
d)Used for low pressure liquid delivery such as water,gas and oil
e)The product apply to various anticorrosive pipes
6) Packing: in bundles, painting, caps, bevel(beveled edges)bundles or as customers requirement,
7) Application range: widely used as the pipeline of industrial and civilian water air petroum natural gas communication and so on.
8) Min order quantity:5T
9) Delivery time:less than a month
10) Quality:first grade
11) Productivity:3000 Ton per Month
12) Others: special design available according to requirement. Anti-corrosion and high-temperature resistant with black painting.All the production process are made under the ISO9001:2000 strictly.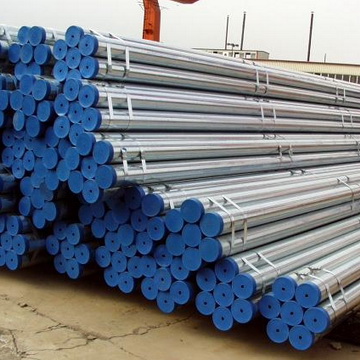 | | | | |
| --- | --- | --- | --- |
| standard | outer diameter(mm) | wall thick(mm) | zinc coating(g/m2) |
| 1 | 19-22 | 0.7-2.5 | 20-400 |
| | | | |
| --- | --- | --- | --- |
| 2 | 24-26.5 | 0.7-2.5 | 20-400 |
| 3 | 31-33.4 | 0.7-2.5 | 20-400 |
| 4 | 40-42.5 | 0.7-2.5 | 20-400 |
| 5 | 46-48.3 | 0.7-2.5 | 20-400 |
| 6 | 57-60.3 | 0.7-2.5 | 20-400 |
| 7 | 74-76.5 | 0.7-2.5 | 20-400 |
| 8 | 86-89 | 0.7-2.5 | 20-400 |
| 9 | 111-114 | 0.7-3.0 | 20-400 |
| 10 | 138-140 | 0.8-4.0 | 20-400 |
| 11 | 164-165 | 0.8-4.0 | 20-400 |
| 12 | 218-219 | 0.9-4.0 | 20-400 |
上一篇:API-5CT OIL PIPE CASING AND TUBING