API 5L line pipe seamless in various grades and sizes. Grades

Home >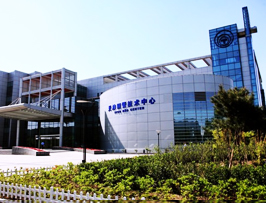 One of the Top 500 enterprises in China foreign trade
QCCO was approved as a member of "China Association for Contracting Projects Abroad "and granted a membership certificate on Sep 28,2005; "Credibility Rating AAA certificate in Foreign Trade" was granted to QCCO by China Shippers' Association

API 5L line pipe seamless in various grades and sizes. Grades
Specification
Octal offers API 5L seamless line pipe from API 5L Gr B to X80, product specification level PSL1 and PSL2. Onshore/Offshore and sour services (H2S corrosive environment NACE pipe). Including manufactured in hot rolled seamless and cold drawn (rolled) seamless pipes. Largest diameters up to 40 inch.
API 5L seamless pipe supply range
Standard: API SPEC 5L (Latest edition)
Grades: B, X42, X52, X56, X60, X65, X70 and S (S for sour service, for example X70QS)
Steel Pipe Dimensions OD: 1/2" to 2", 3", 4", 6", 8", 10", 12", 16 inch, 18 inch, 20 inch, 24 inch, 26 inch to 40 inch.
Pipe Weight Schedule Thickness: SCH 10. SCH 20, SCH 40, SCH STD, SCH 80, SCH XS, to SCH 160
Ends Type: Beveled ends, Plain ends
Length Range: 20 FT (6 meter), 40FT (12 meter)or customized
Protection Caps in plastic or iron
Surface: Natural, Varnished, Black painting, FBE and 3PE, Cladding and Lined etc
CRA Clad and lined pipe available (Carbon steel + cladding or lined alloy steel material)
Chemical Composition
Chemical composition for PSL 1 pipe with t ≤ 25.0 mm (0.984 in)
API 5L mechanical properties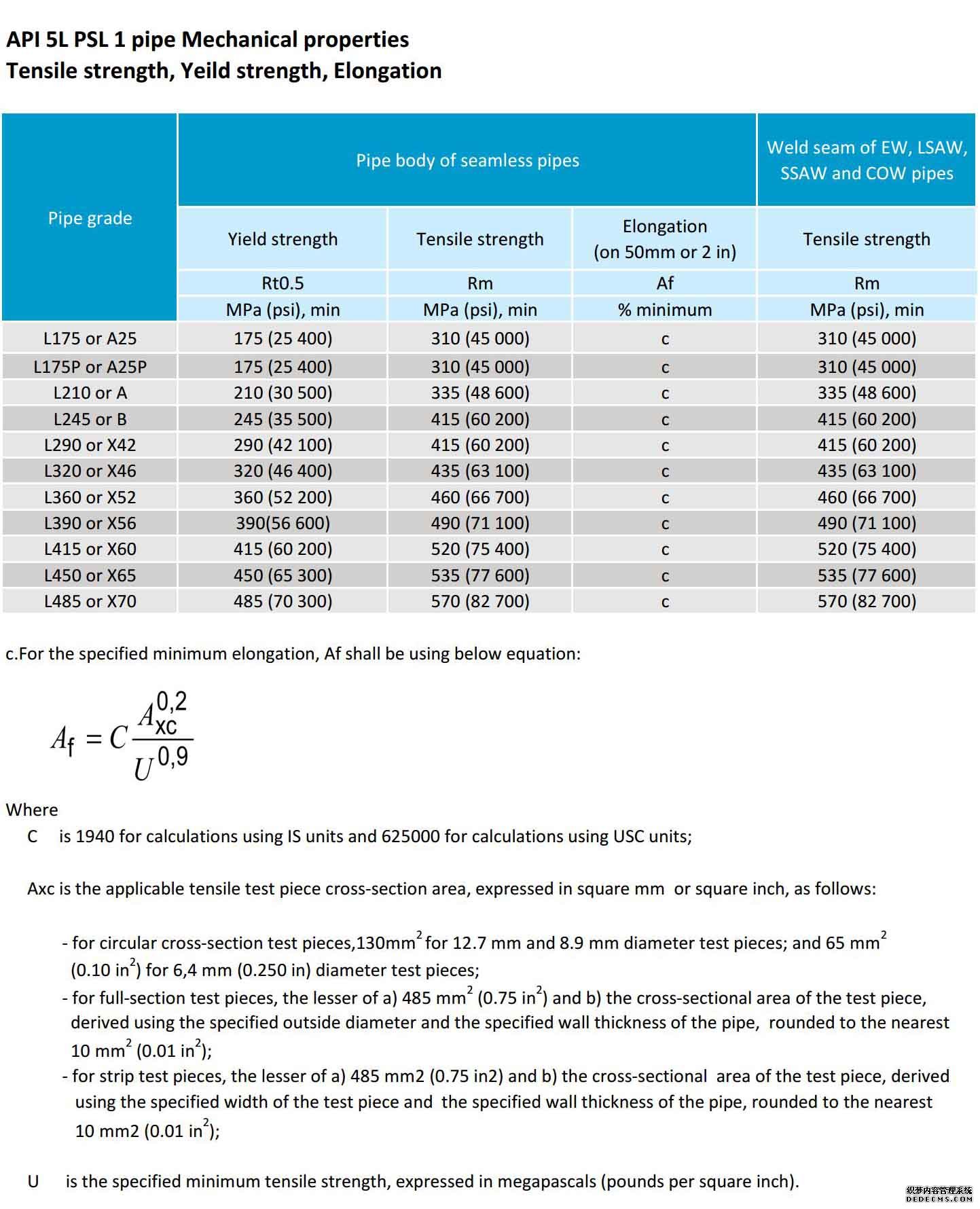 Yield Strength and Tensile Strength for API 5L pipe for PSL2 pipes please view here
Dimensions tolerance for API 5L seamless pipe
a. For outer diameters less than 2 3/8 in (60.3 mm), pipe body diameter tolerance +/-0.5 mm. Pipe end +/- 0.5 mm; Out of Roundness tolerance for pipe body is 0.9 mm (0.036 in), pipe end 0.6 mm (0.024 mm).
b. For OD equal or above 2 3/8 in (60.3) to 24 in (610 mm), (diameter tolerance) for pipe body is +/- 0.0075D, pipe end +/- 0.005D but max to +/- 1.6 mm (0.063mm); Roundness tolerance for pipe body ≤ 0.015D, pipe end ≤ 0.01D.
(In case agreed with manufacturer and client, more strictly tolerances could be applied)
c. For wall thickness
Below than 4 mm (0.0157 in), tolerance +0.6 (0.024 mm), -0.5 mm (0.020 in);
For API 5L seamless line pipe thickness in 4 mm to 10 mm (0.394 in), +0.150t, -0.125t;
For API seamless pipe thickness 10 mm to 25mm (0.984 in), +/-0.125t;
Wall thickness ≥ 25 mm, +3.7mm or +0.1t (if larger) and -3.0 mm (0.120 in) or -0.1t (if larger).
t for thickness;
d. For straightness, max for full length, tolerance maximum 0.15% of length.
e. Straightness, max deviation for pipe end, shall be ≤ 0.3 mm /m.
f. Length +/- 200 mm for general, +/- 25.4 mm for special.
Seamless steel pipe manufacturing types
API 5L Seamless steel pipe production methods can be divided into: Hot-rolled seamless pipe, Cold drawn (rolled) pipe and tube, Thermal expansion pipe, Cold spinning tube and Squeeze tubes.
Formation – Seamless steel pipes are made from a round steel billet while welded pies are made from a strip which is rolled and welded. The formation process of seamless pipes involves forging, perforation, rolling, and shaping all at a time. The defects in the steel can be easily eliminated during the rolling process. On the other hand, the formation process of seamed or welded pipes involves bending plates and welding in desired shapes. The process of making welded pipes is less expensive, and hence, the prices are lower. But in terms of performance, seamless ones are way ahead.
Hot Rolled Seamless steel pipe manufacturing process
Hot Rolling Seamless Steel Line Pipe Manufacturing / Production processes
Rolled Round Billets – Examination – Cut Off – Heating – Piercing – Elongation – Slight Tension Reducing – Straightening – Corp End Cutting Off – Visual Inspection – NDT – Hydrostatic Test – Ends Procession – Product Inspection – Painting and Marking – Packing – Warehousing
Cold Drawn (Rolled) seamless line pipe manufacturing process
Mother pipe (Normally for hot rolled pipe) – Inspection – Annealing – Ends Treatment (Hitting and Drilling hole) – Pickling – Grinding – Phosphorization (Annoit) – Cold Drawn (Rolled) – Degreasing and Cleaning – Heat treatment (Solution treatment) – Straightening – Hydrostatic test – Painting and Marking – Warehousing
Our advantages
Top seamless steel pipe manufacturers in China, with high quality and competitive prices.
Further more, we offer:
a. Common sizes in stock.
b. Small quantity with different sizes.
c. Customized Length.
d. NACE MR 0175 pipe material stock available.
e. Fast delivery.
f. Big diameters seamless steel pipe. (Original seamless pipe in 20" 508 mm OD) Hot expanded to diameter up to 40 in, 1016 mm.
g. Material guaranteed high quality with full traceability.
Octal steel is one of the top steel pipe supplier in China, and we are popular for our high-quality and reasonable pricing. You will get all the common sizes of seamless steel pipes, and you can even order customized sizes. The delivery is fast, and the material used for manufacturing the pipes is of best quality.
API 5L Seamless Line Pipe Applications
For Petroleum and natural gas industries, pipeline transportation systems. Transmission of petroleum and natural gas.
API 5L Pipe Specification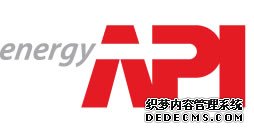 上一篇:Applications of welded pipe piles and Testing and Materials
下一篇:Construction Technology of steel pipe for communication tower